Trisha Ostermeier, Au.D.
Doctor of Audiology
Dr. Ostermeier holds her Doctoral Degree in Audiology from Central Michigan University and is a Fellow of the American Academy of Audiology.  Dr. Ostermeier has worked as an audiologist in a variety of clinical settings, including private practice clinics, university speech and hearing clinics, hospital settings, and most recently in a large multi-specialty clinic. Dr. Ostermeier enjoys working with a wide variety of patients and has a special interest in the assessment and treatment of hearing loss.
Dr. Ostermeier grew up in Kingman, AZ, and comes from a family ranching background.  She received her bachelor's degree in Speech and Hearing Sciences from the University of Arizona.  She has lived and worked in Santa Rosa, CA, and most recently in Seattle, WA.  She is now excited to call the beautiful north coast, home.  When she is not practicing audiology, she can be found spending time with her family, baking, gardening and enjoying the many outdoor offerings of Humboldt County.
Matthew Stuart
Audiologist Assistant
Matthew Stuart is our Audiologist Assistant. He provides support to Dr. Ostermeier and Dr. Speer with routine hearing aid cleanings, minor in-office repairs, and basic trouble shooting. Matthew is a long time Humboldt County local who grew up in Arcata and graduated from Humboldt State University in 2005 with a Bachelor's degree in Philosophy. Matthew was the Product Manager at the Northern California Community Blood Bank before he came to work with us. Matthew and his wife bought their first home here in Eureka and enjoy spending time there with their kids. When Matthew is not at work or at home he enjoys the art of fencing and in April of 2015 he earned his instructor's certification in French foil.
Emily Weber, M.A.
Office Manager
Emily graduated with a Master's degree in Psychology from Pepperdine University. Before coming to Humboldt Audiology, she worked in the social services field for 15 years providing early intervention services to children and families, and managing social service programs in a variety of non-profit and governmental agencies. Emily grew up in the colorful Mojave Desert in Southern California. She speaks fluent Spanish and enjoys getting to know the patients and providing them with the best in personal service.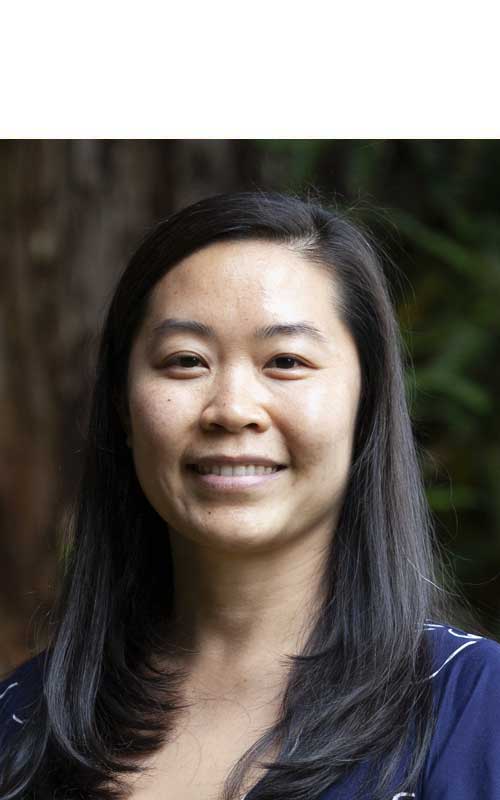 Rucinda Tu
Front Office Lead
Rucinda graduated Humboldt State University with a degree in Psychology and a focus in Women's Studies and Neuroscience. She has always had a passion for the sciences and a greater interest in audiology due to her love of music. Rucinda has been a percussionist for seven years with a special love for the marimba. When not at work she can be found reading, hiking, kayaking around the lagoons, white water rafting, enjoying a good board game at home with friends, or spending time with her three cats.
Joanna Marcuz, Au.D.
Founder
Joanna Marcuz, Au.D., March 3, 1971 to September 7, 2016, was a fourth generation Humboldt County native, a 1989 graduate of Eureka High School, a 1994 graduate of Humboldt State University, and a 2005 graduate of Central Michigan University where she earned her Doctoral Degree in Audiology. Joanna returned to Humboldt County and opened this practice where she lovingly served her patients and her community for 11 years. She is missed, but her legacy of excellent patient care in a friendly, welcoming environment lives on.